About us
Port Tanger was born out of an imaginative response to a poem from a travel diary set in Tangier. After transforming the page by the Mediterranean Sea into a design concept and ethos, the brand's tribute to the spirit of the seeker began in 2019. Embodying the sensibilities of the contemporary vagabond – one that has a moving eye for beauty, one that lets the hues of the world speak and influence them – Port Tanger's founders aim to preserve the colors and cultures that travelers see and experience through design. We seek to conserve not only familial recollections and stories through handcrafted products but also the personal narratives of others, from our eclectic team members to the creative community at large.


Collections
At Port Tanger, we strive to foster a dynamic and supportive community for creatives in this fast-paced era of constant change. Our international collaborations offer two Visited By experiences each year, inviting fellow creatives to collaborate on one or more eyewear designs in line with their unique aesthetic, in connection with our two seasonal drops and permanent Icon collection.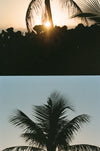 Design
Our team's design practice takes the time to recognize and consider not only the current zeitgeist but also the personal stories of each individual, weaving them into singular, idiosyncratic products guided by our family values, ethics, and world perspectives.
We work closely with our Japanese partners to ensure that every frame meets our strict standards of excellence in form, function, and ethics, incorporating innovative molding techniques for maximum comfort and style.

Craft
Crafted with care and precision, every frame at Port Tanger is designed with a one-front, curved structure that perfectly complements the natural contours of the face, celebrating the distinct features of each individual, regardless of gender.
Our frames are handmade in Japan with high-quality hardware inserts, acetate material, and nylon lenses that offer 100% UVA/UVB protection.
Rooted in our six-point emblematic logo on each side of a frame, our family values shine through, with three points connecting us to the
past through the pillars of nostalgia, tradition, and craftsmanship, and three points reminding us to cherish and value the present through the pillars of hope, design, and culture

Photography: Mark and Bibi Borthwick
Poem: Mark Borthwick